Loading...

Your shopping cart is empty.

more items in the cart...
Product Details
New in box Panasonic / Matsushita UJ-120 Blu-Ray Super Multi DVD+/ -R/RW BD-R Dual Layer Burner for all Laptops and Desktop PC, all Apple/Mac computers.
*
*
This drive can burn & play CDs DVDs and play Blu-Ray High Definition movies.
*
It is the smallest, lightest and fastest USB portable blu-ray player and CDs DVDs burner /player in the world!
*
The Slim-Line Blu-Ray drive is the flexible solution for people on the move who need multimedia solutions.
*
The Blu-Ray drive is connected to the notebook or desktop computer via a USB Port.
*
Allowing for true mobility, it does not require an AC adaptor, making it a perfect solution for the mobile user requiring access to their data
*
It support any make or model of Laptop/ Notebook or desktop PC that has USB support.
* Color: White /Black /Silver
* Power Tip: External power is not required -- fully powered by USB. This external drive uses USB 2.0
*
Dimensions of Case :
Length: 14 cm (5.5 inch)
Width: 13.5cm (5.2 inch)
Height: 1.8 cm (0.6 inch)
System Requirements :
Windows 98SE, ME, 2000, XP, Vista
*
Working USB 2.0 port
*
Must have at least a core-duo machine with 1GB RAM
* Drive Specifications:
* Internal drive: Panasonic UJ-120
* 2X BD-ROM reading
* 5X DVD-RAM Writing
* 8X DVD-R Writing
* 2X DVD-R DL Writing
* 4X DVD-RW Writing
* 8X DVD+R Writing
* 2.4X DVD+R DL Writing
* 4X DVD+RW Writing
* 8X CD-R Writing
* 8X CD-RW Writing
*
24xCD Reading Speed
8xDVD Reading Speed
1.6XBD Reading Speed
* Condition: BrandNew
* Plug & play !
*
Compatible with Windows 95/98/Me/NT/2000/XP/Vista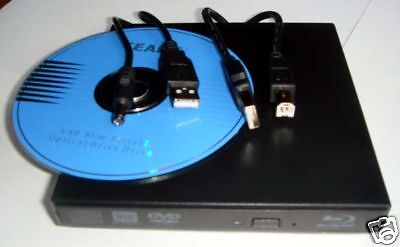 Shipping Information

Processing Time Typically ships in 1 to 2 business days.
Super Saver Shipping 7 - 15 business days.
Expedited Shipping 3 - 5 business days.
Payment Methods
Reviews
Submit a review between November 1-30 to automatically enter.
Upload a product image for an iPad AND iPad case !
There are no reviews yet, be the first to Write a review. Write a review
Recent Reviews
There are currently no product reviews.
NOTE: Reviews require prior approval before they will be displayed